I can't wait to move.
I want to move now.
I am happy here but I am ready for the next step.
My mind is going to explode.
Classes are overwhelming my time management.
This weekend proved me wrong in my skills to get my work done last minute.
Lets take a minute to sum up this weekend:
Fri
-trampoline parties at bryan's house.
-good friends and bikes.
Saturday
-45 mile ride with the boyfriend for brunch and back.
-spent 20 minutes in the massage chairs in brookstone
-alex & luke came in town
-cook out at bryans
-Sean/Bryan/Chris's Show at Local's only.
-dylan's 22nd birthday party
-good conversations with good friends.
-riding bikes at 3 am went the wrong way to pita pit which was closed.
-then to steak and shake to eat food and play spot a sober person[we couldn't]
-rode home to finally crash at 5:30am
Sunday
-brunch at sunrise cafe with bradley,bryan,luke,chris, and alex.
-worked
-came home from work to a 'family dinner' european style cause it was at 8:30pm
-bradley,evan,alexis,alex,bryan,chris, dano, and i all had a pitch it.
- wii tennis tournament bryan won all four rounds :(
-more drinking 3 bottles of wine gone between 3 girls in a few hours haha.
-hanging out talking pictures. what a night. Bed at 3am.
I don't stay up late because of all my school work i have to concentrate on but this
weekend was one of the most fun weekends i have had in a long time.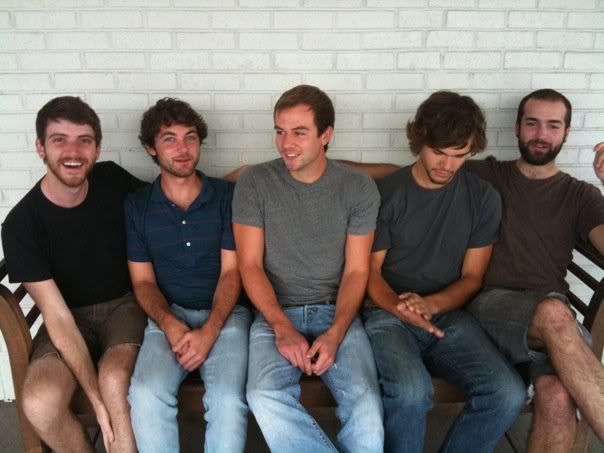 I have amazing friends & more pictures to come.
[these were just from my iphone]
now i need to be more organized and more driven to get done with my school work
so i can have more fun on weekends with out stressing. eeeek.
third week into school and blahhh is my feeling. this needs to improve.
[September 8th 2009/4:38pm]